Hard Anodised Cookware
Hard Anodised Pots & Pans
Make cooking a breeze with our anodised pans. Whether you're creating a curry or searing a steak, our patented Hi-Low circular non-stick system helps seal in flavour without ingredients catching on the pan. Discover our range of hard anodised pans of all types and sizes and uncover your culinary genius.
Shop our collection of hard anodised cookware today.
Read More
Read Less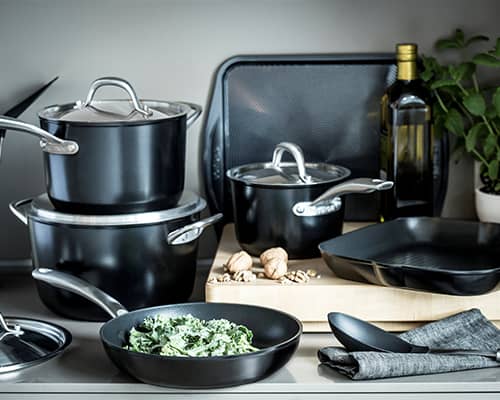 Hard Anodised pots & pans from Circulon
For speedy suppers and decadent dinners, our hard anodised pan sets help you cook fearlessly. Embracing flavours from around the world, you'll find everything you need to whip up any dish. From frying pans and stockpots to saucepans and woks, there's a reason professional chefs and home cooks alike love our hard anodised cookware. Circulon has been a market leader in cookware engineering and technology. At the forefront of pioneering design, we've been creating professional-grade cookware for decades, helping to bring restaurant-standard food into homes and onto dining tables.
Transform mealtimes with hard anodised pots and pans
Undergoing a chemical process to oxidise the cooking surface, our hard anodised pans are durable, non-stick, and ensure your food retains its flavour for delicious dinners every time. Our scratch-resistant anodised pans can be used with metal utensilsutensils without causing damage to the surface. Browse our collections and find the hard anodised pan set you're looking for. From the Premier Professional range with soft silicone grips to the Momentum range featuring modern designs and durable performance.
Create a bespoke hard anodised cookware set with Circulon
Whether you purchase a complete hard anodised cookware set with all the essentials you need or create a bespoke collection to suit your culinary needs, with Circulon it's easy. Simply pick and choose which pots and pans to add to your collection with our build a bundle feature and get experimenting. When you buy 3 pans you'll get 15% off your purchase when you order three items together.
Hard anodised cookware FAQs
Of course! All our anodised pans are designed to be dishwasher safe, making the clean-up after mealtimes easier and faster – no matter how adventurous you are in the kitchen.
Traditionally, hard anodised pots and pans have a non-stick coating to repel food, whereas stainless steel pans don't. However, thanks to our pioneering Hi-Low circular non-stick system, all our stainless steel pans also have this incredible patented non-stick coating too, so the choice between stainless steel and anodised pans really is yours.
We're so confident you'll not only love your hard anodised pan sets and that they'll perform through all your scrumptious suppers that they come with a lifetime guarantee. Should you become dissatisfied as a result of falling quality, we'll replace your items free of charge. Need help deciding which hard anodised pan set to choose? Contact our helpful team today and learn to cook fearlessly.