Cake Tins
If you're looking to bake a succulent sponge cake or gateau for the family or a special occasion, you are in the right place with our selection of Non-Stick Cake Tins! Featuring Round & Square Cake tins, you can unleash your inner star baker with our range of impeccably crafted carbon steel cake tins, designed for perfectly even baking performance every time.
Whether you are crafting for a bakery business or baking homemade favourites, Circulon Cake Tins make baking easy. Our Hi-Low Non-Stick System helps to make your cakes light and moist without worrying about them sticking to the base.
Explore our range of cake baking tins and uncover your passion for fearless baking.
Read More
Read Less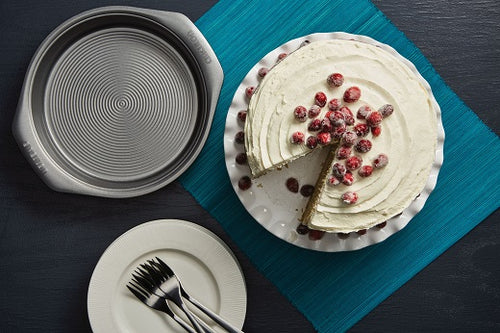 Cake tins FAQs
The most common size is an 8-inch or 9-inch cake tin. Typically, cake recipes will make the perfect amount of batter for these sizes, which create the perfect fluffy cake without it being thin or soggy in the middle. Depending on the type of cake you are baking, choose between a round cake baking tin or a rectangular cake tin. If you are baking a Victoria sponge cake, the round 9-inch cake tin is ideal, whereas lemon cake would work better in a square-edged tin or loaf tin.
When experimenting with cake tins, you must get the right one for your cake. Choosing the wrong size/depth can result in a poor rise or the sponge not being cooked in the middle. A classic cake tin with solid sides and a flat bottom will ensure the perfect form for your sponge cake. The size of your cake tin is largely your choice, depending on the amount of mix and the preferred finished size. However, we recommend an 8-inch cake tin or a 9-inch cake tin to get the most even depth and rise from your sponge.
As mentioned previously, cake tin size is relative to the mix you're making. A recipe will often suggest the appropriate cake baking tin size for your bake. This is because the ingredients are closely calculated to create the perfect rise in the corresponding tin. So, if you are unsure of what cake tin size is right, consult the recipe in the first instance. Alternatively, fill in our online form and a member of our friendly team will respond to your suitability query as soon as possible.
Our cake tins are made of carbon steel and include our ultra Hi-Low Non-Stick System. This combination makes our tins incomparable as it allows you to release the sponge from the cake baking tin with ease and enjoy a perfect, even bake. What's more, the carbon steel we use to make our tins means an effortless clean-up, creating a seamless baking experience from start to finish.
Yes, they are! Once you have baked your dreamy cake and removed it with ease, you won't have much cleaning to do. However, to make your life even simpler, our cake baking tins are dishwasher safe. So, after you've created your masterpiece, you can relax while your dishwasher is doing all your hard work.