Saucepans & Milk Pans
From complete sets to individual pieces, if you're looking for Kitchen Saucepan Sets and Milk Pans, engineered for universal use on all Gas, Ceramic, Electric and Induction Hobs, you're in the right place with Circulon.
Our Kitchen Saucepan Sets range extends from easy clean, Non-Stick Saucepans with Hi-Low Non-Stick coating to long-lasting, Stainless Steel Saucepans with Lids. Perfect for cooking Sauces, Rice, Pasta, One-Pot Meals and Risotto, a high quality Saucepan and Milk Pan is a kitchen essential, helping you to consistently create delicious dishes every time you step in the kitchen.  
Read More
Read Less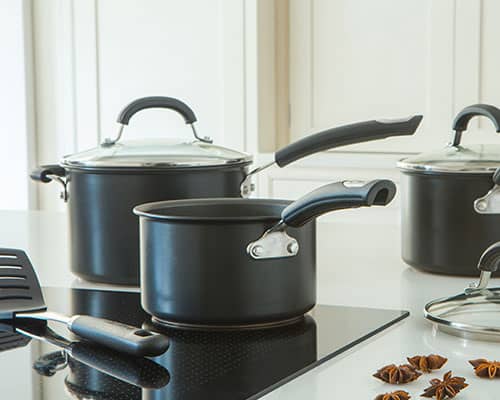 Saucepans & Milk Pans FAQs
Traditionally used for heating milk, a Milk Pan is simply a small Saucepan with a spout for pouring.
A One Pot Meal is a recipe you can make using one Saucepan (Pot) in order to save energy, reduce food waste and the washing up. Popular One Pot Meals and Recipes include Hot Pots, Chicken Pasta and Salmon Risotto!
Circulon has worked for over three decades to achieve cookware that is fine-tuned to perfection. As an integral part of everyone's culinary collection, our kitchen saucepans are no exception. Our patented Hi-Low Non-Stick system combines a relaxed Hi-Low wave technology (noted by the famous raised circle interior) with the most advanced, safe non-stick coating available in the world today. Unique to us, you won't find this bespoke technology anywhere else.
They most certainly are! All Circulon Saucepan Sets are made without PFOA, which is a man-made chemical that has been found to be harmful to humans.
All Circulon Frying Pans, Skillets, Stock Pots, Saucepans & Milk Pans featured on our website can be used on any Hob type, Gas, Electric or Induction Hobs - so you can shop with confidence!