Wok & Stirfry Pans
A Circulon Non-Stick Induction Wok or Stirfry Pan, is a kitchen essential for any home chef! From delicious Beef Stir-Fries to Chicken Noodle Soups, our Induction Hob Ready Wok & Stirfry Pans will always cook up a treat.
The unique shape of our Induction Hob Wok Pans ensures heat can be distributed evenly for faster cooking at lower temperatures. It's why Woks are perfect for quick meals after a busy day at work. The Wok has endless culinary uses. The distinct steep sloping sides of our woks not only help keep all those glorious flavours packed in but also ensure any spillages are reduced when using high heat on those sauces!

Every Circulon Non-Stick Wok & Stirfry Pan features our superior Hi-Low Non-Stick technology, so you'll never have to worry about your stir-fry sticking to the inside of your pan and can easily hand wash! Toss your delicious noodles with ease and enjoy the full culinary experience with a Non-Stick Wok.
Read More
Read Less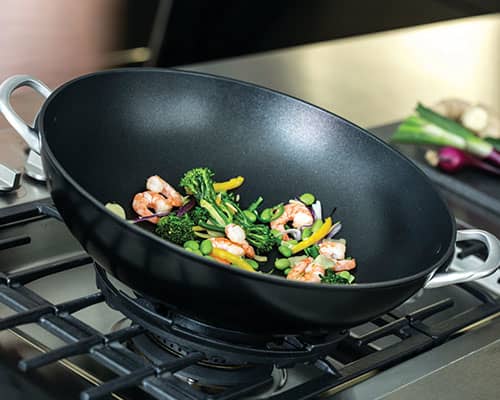 Wok & Stirfry Pans FAQs
A true staple in any home cook's cupboard, the wok is one of the most versatile pans out there, proving extremely handy for a number of popular home-cooked dishes. Perfect for a sizzling stir-fry, its large size and high sides allow you to pack in a substantial amount of ingredients. But that's not all that can be whipped up within your wok at home. We're going to go out on a limb and say that you can pretty much cook anything in this integral kitchen pan. From scrambled eggs, mussels and meatballs to halloumi, fajitas and curry, the humble wok pan, especially those with a lid, can take on just about anything!
Sometimes referred to as pre-seasoning, if you want years of excellent performance from your Wok, you can find out how to Season your Wok with our latest article.
In a nutshell, some Woks require 'seasoning' – no, not with salt and pepper! The technical name for this is creating a 'patina', or a protective layer, around the inside of your wok pan, which is enhanced every time you cook with oil.
Find out how to safely clean your Wok with our Circulon top tips, that you can use with any brand of Wok or Stirfry Pan.
Circulon Woks and Stirfry Pans deliver excellent performance on any stovetop, including Electric, Gas and Induction Hobs! Circulon Woks and Stirfry Pans have been engineered with future proof technology in Non-Stick and Induction compatibility!
With over three decades of experience in the cookware world, we've learnt a thing or two about how to deliver the perfect wok! Our comfort grip handles have been meticulously designed to adequately support the heavier weight of this large pan. Dishwasher safe and suitable for induction hobs, these versatile kitchen staples come equipped with a lifetime guarantee to ensure you get the most out of your Circulon wok for many years to come.
Circulon takes pride in the fact that none of our product lines contain PFOA, including our wok pans. We continue to ensure our cookware is manufactured without the use of this harmful chemical. As always, nothing is more important to us than the health and safety of our customers. That's why we have researched and implemented alternative PFOA-free materials made with safe and effective technologies across our products instead.
Need further information on picking the perfect wok pan? Contact our friendly team who will be happy to answer any of your questions during your cookware search. Fancy adding to your recipe repertoire? Head over to our scrumptious food blog where you'll find an array of delicious dishes waiting to be devoured!