Frying Pans & Skillets
With Circulon Induction Frying Pans & Skillets you can enjoy home cooking and improve your Energy Efficiency in the Kitchen. Featuring revolutionary Non-Stick, Lifetime Guarantee and over 1,400 verified customer reviews.
Suitable for all Hob Types (including Gas, Electric & Induction Hobs), our Induction Frying Pans & Skillets are designed to ensure perfectly seared food every single time, whilst using less energy and time! If you want to find out more, read our complete guide to Induction Hobs & Pans here. 
Whether you're creating the perfect morning fry up or expertly searing a succulent piece of sirloin steak, Circulon Frying Pans & Skillets incorporate our patented Hi-Low Non-Stick system, which is proven to provide outstanding performance. 
Read More
Read Less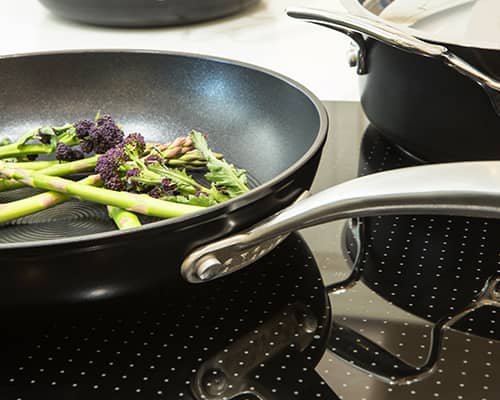 Frying Pans and Skillets FAQs
Informally, a Skillet is nearly identical to a Frying Pan. There is only one subtle difference between the two. Typically, there's greater depth to a Skillet than a Frying Pan. Make sure you read our complete Skillet Buying Guide if you want to find out more about the difference between a Skillet and a Frying Pan!
All Circulon Frying Pans and Skillets are suitable for all Hobs, including Gas, Ceramic, Electric and Induction Hobs! Whilst Gas and Electric Stovetops remain highly popular, Induction Kitchenware is growing in demand and we have future-proofed all of our Frying Pans and Skillet to be Induction Hob compatible.
Circulon Frying Pans & Skillets are carefully crafted with our Induction Hob suitable Hi-Low Non-Stick system.
Patented to Circulon, this specially designed system combines a relaxed Hi-Low wave technology (noted by the raised circle interior) with the most advanced, safe non-stick coating available on the market today. Unique to Circulon, you won't find this ground-breaking technology anywhere else! If you're looking for more than just a single Skillet or Frying Pan, you can create your own cookware bundle and get 15% off when you buy three or more items.
Absolutely! We pride ourselves on the time and effort we've put into making our pans free from any harmful materials or coatings, so we can confidently say all our skillets and frying pans are PFOA-free. We work hard to ensure every piece of our PFOA-free cookware is manufactured without the use of this potentially harmful chemical. As always, the safety of our customers is paramount to us, so Circulon continues to use alternative PFOA-free materials instead, made with safe and effective technologies. We offer a huge range of PFOA-free cookware so we've got a perfectly save option for whatever task you've got planned in the kitchen.
The clue is in the name with these handy pieces of cookware – frying pans and skillets are perfect for shallow frying, flipping food such as pancakes, and high-heat searing on steak or fish to get that perfectly sizzled exterior on your food that everybody knows and loves. Q: What are the benefits of hard anodised skillets? Here at Circulon, you can benefit from a range of skillet pans that have been meticulously refined from heavy-gauge, hard anodised aluminium. This robust material is twice as tough as stainless steel, giving these selected frying pans outstanding durability that is sure to stand the test of time within any kitchen.
The simple answer is yes! All Circulon frying pans and skillets can be popped in the oven during your cook. As each pan differs slightly from one to another, be sure to look out for our "oven-safe" stamp on the description and double-check the maximum temperature your non-stick frying pan or skillet is safe to use in the oven.
Not a problem! We understand that choosing the perfect products to suit your lifestyle can be tricky. Simply contact our friendly team who will be happy to answer any queries you may have during your cookware quest. Fancy adding to your recipe repertoire? Head over to our fabulous food blog where you'll find endless delicious dishes that are sure to impress your guests at your next dinner party.
Get non-stick frying pans and skillets from Circulon today!