Non-Stick Pan Sets
At Circulon we offer Lifetime Guaranteed Non-Stick Pan Sets including Saucepans, Frying Pans, Skillets, Sauté Pans - built for all Kitchens and Hob types including Induction Hobs! Every kitchen needs a high-quality, complete Non-Stick Pan Set to cook with confidence each mealtime.
Our Premium Cooking Pan Sets are available in a variety of sizes and materials, including Twin Frying Pan Sets, 5 Piece Stainless Steel Sets and our complete 8 Piece Infinite Pan Set. All of our Pan Sets come with a Lifetime Guarantee and are universally suitable for all Hob types.
Whether you're hosting a get-together with friends or enjoying a night in and cooking for the whole family, get all the quality Cookware you need in one go with a highly durable Pots & Pans Set from Circulon.
Read More
Read Less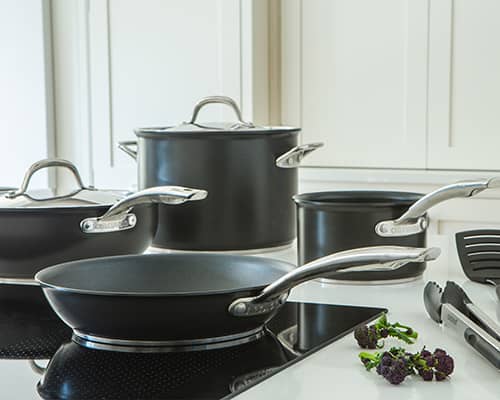 Choose Circulon for your cooking pots and pans sets
Ready to become a master in the kitchen? Simply invest in our pan sets to begin your journey to culinary excellence. Fancy trying something new? Head over to our fabulous food blog where you'll find endless delicious recipes to try on all your family and friends. If you have any questions, simply fill out our online form and one of our friendly advisors will be happy to get back to you.
Pan Sets FAQ
There are multiple reasons as to why you should invest in a Non-Stick Frying Pan, Saucepan or Pan Set, instead of a Standard Pan Set. We have have pulled together an article with seven reasons why you should invest in your cookware but in a nutshell; Non-Stick Pan Sets can easily be hand washed in seconds (reducing dishwasher energy usage), you use less energy cooking (thanks to our Pan Set's optimal and even heat convection) and you can cook with minimal cooking oil!
All our PFOA-free pans come with a lifetime guarantee, so you can cook with confidence, knowing that your pans are safe for all the family. Forget the hassle of soaking your cookware for hours after use, our high-quality non-stick pans put the joy back into cooking, during and after your delicious meals. Suitable for induction hobs and 100% dishwasher safe, you won't be disappointed with a Circulon pan set. If our range of pan sets don't provide exactly what you're looking for, create your own cookware bundle of three or more items and get 15% off.
PFOA is the abbreviated name for perfluorooctanoic acid. This is a man-made chemical compound commonly found in non-stick coatings. Many manufacturers use this coating for its success at making non-stick and scratch-free surfaces. However, human exposure to PFOA has since been found to be extremely harmful in some cases. Consequently, cooking with pots and pans that include PFOA is best to be avoided at all costs. You can rest easy knowing that all Circulon pans are 100% PFOA-free and safe for you and the family.
All our non-stick pans are entirely safe and fit for all cookery purposes. We have dedicated over 30 years to carefully crafting only the highest standard of cookware across all our ranges, using premium materials for each product. We are proud to say our cooking pan sets are PFOA-free, giving you peace of mind with every meal you master in the kitchen.
Yes, you do. Due to the way induction hobs work, only pans made from ferrous metal will provide the magnetic reaction required for heat to transfer successfully to your pan. Look out for our "induction suitable" stamp on Circulon cookware to ensure your selected pan set will work perfectly on your induction hob. With a vast choice of various styles and sizes available, we have pots and pans sets to suit every need perfectly.