Casserole Pans
Casserole Collection
Every self-respecting home cook understands the importance of a high-quality casserole pan. Giving true meaning to 'one-pot wonders', a robust casserole pan makes cooking delicious stews, curries and casseroles simple. Ideal for weeknight dinners or weekend blowouts, a robust casserole pan with a lid means that you can cook up a storm all week long.
Made with quality and ease at heart, our range of casserole pans are both suitable for hob and oven use thanks to the innovative SteelShield technology. Taking you from the oven straight to the table with minimal washing-up, our premium non-stick casserole pans are your secret weapon in the kitchen.
Shop the range of Circulon casserole pans for a kitchen staple that'll last for generations.
Read More
Read Less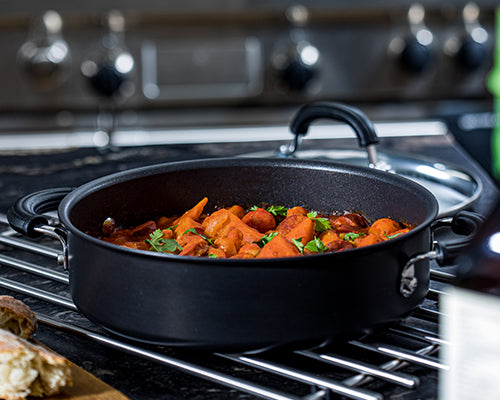 Casserole pan FAQs Q: What is a casserole pan used for? Sometimes referred to as a 'Dutch oven', a casserole pan is a cooking pot that can be used to make life simple. Casserole pans are made from cast iron, ceramic or stainless steel, meaning that you can be sure of superior cooking results. Due to the properties of cast iron and steel casserole pans, heat is distributed evenly. By spreading heat uniformly, you can be sure that all ingredients are being cooked equally. This in turn makes a casserole pan ideal for one-pot wonders such as stews, casseroles, tagines and so much more. The right casserole pan with a lid will take you from hob to oven with ease – leaving you with more time to entertain guests while your dish cooks. Q: What can I make in a casserole pan? Pretty much anything! A good-quality casserole pan is a kitchen staple due to its adaptability. No matter the flavour combinations you're throwing together, a casserole pan is bound to give you the results you're looking for. Cook up a storm and make soups, casseroles, stews, pot roasts, curries and sauces with the help of a non-stick casserole pan. You can even push the boat out and make a mess-free lasagne or moussaka in our premium non-stick casserole pans with lids. Q: What are the benefits of a Circulon casserole pan? As well as saving on washing-up time, our Circulon casserole pans are truly exceptional at what they do. Designed with one-pot cooking in mind, our stainless-steel casserole dishes help you to cook delicious meals in no time at all. We know that time is of the essence, which is why we designed our casserole pans to heat up 20% quicker than other leading brands. As well as evenly distributing heat so that there aren't any hot spots, our premium casserole pans don't keep you waiting when there's hungry mouths to feed! And when it's all gone? Simply pop it in the dishwasher, ready for next time. With 30 years' experience making pans that deliver every time, we're proud to declare that our cookware comes complete with a lifetime guarantee. That combined with our revolutionary Non-Stick SteelShield technology and induction-suitable base means Circulon is the logical choice. Q: What size casserole pan do I need? The size of the casserole pan you'll need depends on how many you're cooking for and your personal preference. For a couple, a 2.4-litre casserole pan is ideal. However, if you're feeding a family of four, you can't go far wrong with a 4.2-litre casserole pan with a lid. If you've got a larger family or simply like to batch-cook for ease, you may need one of our largest casserole pans. If you tend to use a casserole pan for braising, then usually a shallow casserole pan will do the trick. As a general rule, bigger is better when it comes to casserole pans. The more space that ingredients have in the dish, the better that the flavours will infuse and the more impressed your family and friends will be! Not sure what size is best? Fill out our online enquiry form and one of our experts will be more than happy to help. Happy cooking! Q: Can I put my casserole pan in the oven? Yes! One of the great things about a non-stick casserole pan is that it can take you from the hob, to the oven, to the table. Q: Is a casserole pan suitable for induction hobs? Yes, they are. Our casserole pans for induction hobs provide superior cooking results no matter whether you use induction or gas hobs - all thanks to our revolutionary induction-safe base. And as our casserole pans are stainless steel, they heat up quickly too. Q: Browse our range of superior casserole pans online today For an easy way to revolutionise your cooking, our casserole pans make one-pot cooking a delight. For tips, tricks and scrumptious one-pot recipes, visit our helpful blog. Not sure which casserole pan is best suited to you and your family? Get in touch with our helpful team for tailored advice and guidance.