Sauté & Chef's Pans
Sear and Sauté like a seasoned chef with our range of Sauté Pans and Chef Pans with Lids, covered by our Lifetime Guarantee. A hybrid of a Frying Pan and a Saucepan, Non-Stick Sauté Pans & Lids allow you to cook food quickly to a high standard, while Chef's Pans are perfect for One Pot Meals.
Whether you're looking to sear meat with fewer spills or brown ingredients with plenty of space, our stainless-steel sauté pans will bring both quality and ease to the kitchen, thanks to the large base surface areas.
Shop the range of Circulon UK Sauté and Chef's Pan Sets today.
Read More
Read Less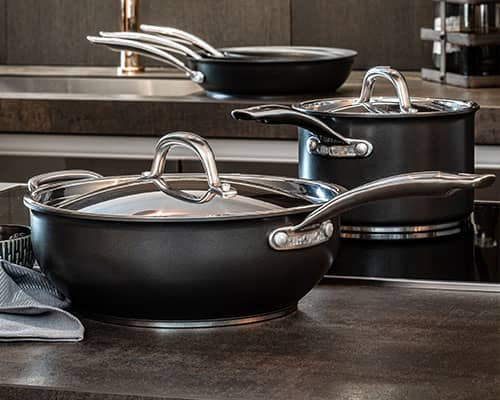 Sauté Pan & Chef's Pan FAQs
As somewhat of a hybrid between a Frying Pan and a Saucepan, a Sauté Pan is a highly versatile piece of cookware that can be used to cook One Pot Meals. Unlike a frying pan, which has slanted sides, a sauté pan's sides are straight.
The jack of all trades, the sauté pan is suitable for virtually all kinds of cooking. In no small part thanks to its handy sides, a sauté pan has a greater surface area than that of a frying pan. This therefore makes a sauté pan ideal for searing meats. From browning off some chicken thighs to cooking the perfect steak – you can't go far wrong with a stainless-steel sauté pan. Sauté pans are also perfect for cooking curries, casseroles or anything else with a sauce.
If you want to find out what a Sauté Pan is used for, make sure you read our Sauté Buying Guide!
In short, yes! As our Circulon Chef's Pan Sets are so versatile, it can be used instead of the trusty Frying Pan or Skillet. However, if you want a pan to do the 'chef's toss (for a pancake for example) – a Frying Pan might be a better option!
Although, traditionally, Stir Fry is made in a Wok there's no reason why you can't use a Circulon Sauté Pan. Rather than investing in multiple pans for multiple purposes, our sauté pans are versatile enough to be one of the few pans you need. Simply add a drizzle of oil, crank up the heat and watch our stainless-steel sauté pans work wonders.
You absolutely can deep fry in a Sauté or Chef Pan! Thanks to the tall sides of our stainless-steel sauté pans, they are suitable for deep frying. What you can deep fry will depend on its size. As long as you can deep fry the food in just a few centimetres of oil, our sauté pans are suitable. Just be careful not to fill the chef's pan with too much oil as this could bubble over and cause all manner of problems. For advice on choosing the best pan to elevate your culinary skills, get in touch with our helpful team. They're on hand to help you find the best pan for the job at hand.
If you're looking to create tasty meals from scratch, you'll want one of our SteelShield sauté pans in your kitchen inventory. For help choosing the best sauté pan for the job, fill out our online form. Our kitchen experts are on hand to offer advice and guidance on the best pan (or bundle!) for your needs. In the meantime, visit our blog for tasty recipes, tips and tricks.