Roasting Trays & Tins
If you've always wanted to master the art of a perfect Sunday Roast - you need to explore the Circulon Non-Stick Roasting Trays & Tins range.
Engineered from high-quality carbon steel, our ovenware is of incomparable standard, making your cooking and roasting results second to none. Featuring our patented Hi-Low Non-Stick finish (PFOA Free!), our Roasting Tins are sure to become your faithful sidekick, for delicious homemade roast potatoes, parsnip & joints of meat - whenever you want to cook the family a Sunday Dinner! You'll be excited to get your oven on! 
Read More
Read Less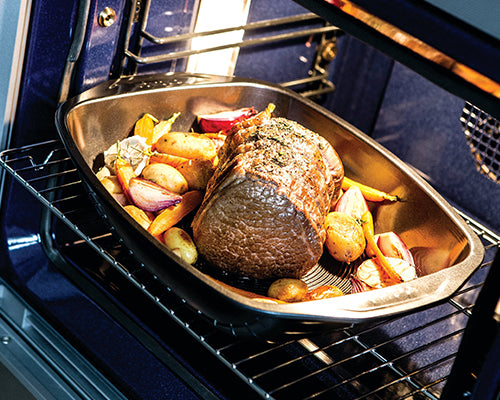 Roasting tins and trays FAQs
Circulon has worked for over three decades to finetune their kitchen cookware and our roasting tins and trays are no exception. Our non-stick roast sets are made with carbon steel, offering you an incredible cooking performance. What's more, we know how messy cooking a roast dinner can be. That's why our roasting tins and trays come with our specially developed Hi-Low Non-Stick System as standard, offering exceptional food release every time. Need a rack for your roasting tray? Our roasting tins with racks offer the perks of our roasting tins with the addition of a non-stick roasting rack, giving you an even roast all over without the stressful cleaning to follow.
Strictly speaking, a 5kg turkey would roast nicely in a relatively small roasting tin. Our Ultimum Roasting Tray is an excellent option. The dimensions of the Ultimum Roasting Tray are 39.5cm x 30.5cm x 6.5cm. This size will give the turkey enough room to cook whilst creating scrumptious juices at the bottom of the tray to use for gravy. Alternatively, if you prefer a roasting tin with a rack, our Ultimum Roasting Tray with Rack is the perfect option. Allowing air to circulate around your turkey will give you an evenly cooked piece of meat. The measurements of the Ultimum Roasting Tray with Rack are 39.5cm x 30.5cm x 6.5cm – perfect for a 5kg turkey.
Yes, they are! Circulon designs cookware with the busy chef in mind. Years of exceptional research and testing has allowed us to create exceptional, dishwasher-safe cookware with a lifetime guarantee. So our non-stick roast sets can get washed repeatedly without affecting performance. Have questions about our roasting tin sets? Our friendly team is always on hand to help with any queries you may have – contact our team and learn how to cook with confidence.