Induction Pans
Discover Circulon Induction Pans & Cookware, perfect if you've invested in a new Induction Hob or Stovetop for your kitchen. Including Induction refined Saucepans, Frying Pans, Griddle Pans, Sauté Pans & Woks. Circulon Non-Stick Induction Pans are engineered for optimum performance on Induction Hobs in any modern kitchen.

If you wondered how Induction Hobs and Pans work and why they're growing in popularity, we have the answer:
Traditional gas, electric & ceramic hobs spend unnecessary energy heating the Stovetop, which then heats up the Pan.
Induction Hobs waste minimal energy heating the Stovetop, with heat instead magnetically transferred straight to the base of the induction pan, meaning you can cook evenly & save energy, every meal. If you want to find out more, read our complete Induction Hob guide.
Shop our collection of Induction Pans & Cookware today, including 6 & 7 Piece complete sets for the new kitchen feel or individual Circulon Momentum, Infinite and Stainless Steel Pans if you want a single induction pan to try first! 
Read More
Read Less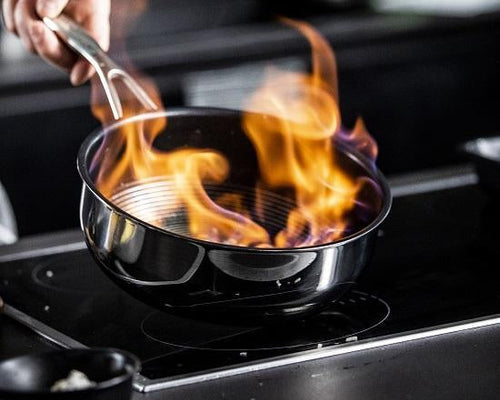 Induction Pans from Circulon
For more than three decades, Circulon has been leading the market in cookware technology and engineering. Our induction pan sets provide you with time-saving cooking solutions of stunning quality and unparalleled durability, so you can spend more time eating mouth-watering meals and less time prepping and cleaning. Discover our range of induction pan sets and find out for yourself why Circulon is trusted by those in the know.
Why it's time to invest in non-stick induction cookware from Circulon
If you're looking for a time-saving and energy-efficient way of cooking, induction cooking is for you. Look for the induction image on our packaging icon on our product pages to find induction hob safe cookware. Induction hobs work by creating a magnetic field between the base of the pan and the magnetic coils beneath the cooking surface, which is why all our induction pans feature bases with materials that have been specifically optimised for induction hobs. contain a layer of magnetic properties. Heat is directly transferred to induction hob pans instead of to the air surrounding it, ensuring that all food is heated to a constant, easy-to-control temperature so you can create your best dishes yet.
Induction Pans & Induction Hobs FAQs:
As Induction Hobs use magnetic energy to heat Pans, Induction suitable Cookware contains either iron or a magnetic base in order to conduct heat to the Pan and cook.
Pans and Cookware made of Cast Iron, Enamelled Cast Iron, and Stainless Steel are all Induction Hob safe. To test if your Pan is Induction Hob suitable, hold a magnet to the bottom! If the magnet clings to the bottom of the Pan, the Cookware is Induction suitable. Remember to take care when lifting the Pan off the Hob and avoid dragging it across the stovetop too.
Induction Hobs have several advantages over Gas or Electric Hobs. Firstly, Induction Hobs are more energy-efficient than Gas or Electric hobs because they directly heat the Pan or Cookware, rather than heating the air around it. This means that less heat is lost in the transfer process, resulting in faster cooking times and lower energy bills than traditional Gas or Electric Hobs .
Secondly, induction hobs are safer to use because they only heat up when there is a pan on the surface, reducing the risk of accidental burns or fires. Finally, Induction Hobs are easier to clean than conventional Gas Hobs because they have a smooth surface without any grates or burners to remove and clean, making them a more hygienic option for home cooks.
Finally, Induction Hobs are becoming more affordable and widely available, making them a more accessible option for home cooks!
Absolutely! Metal utensils can be used with all our SteelShield Induction Pans, and thanks to our unique Hi-Low non-stick system, the "Hi" area allows for a fraction of the cooking surface to take the abuse of utensils, while whilst protecting the majority of the cooking surface.
Of course! We're so confident in the quality of our products that all our induction pans come with a limited lifetime guarantee, meaning our products are guaranteed to be free from defects in materials and workmanship under normal household use.
Yes! We know how busy life can be, which is why all our induction pans are dishwasher safe. Have more questions about induction cooking or our induction pan sets? Our friendly team are here to help. Simply fill out our online form and we'll get back to you as soon as we can!