Stockpot Pans
Stockpot Collection
If you're looking to take your culinary skills to the next level, you won't want to be without a superior-quality stockpot pan. Perfect for batch-cooking, feeding your family or simply entertaining guests, stockpot pans make cooking in volume a breeze.
Cook winning chilli con carne, soups, casseroles and so much more with our versatile stockpots. If you're something of an accomplished chef, our stockpots are built with culinary excellence in mind. Boil down vegetables, meat, bones and more with ease in one of our innovative covered stock pots.
Whether you're a professional looking for your next kitchen staple or simply enjoy cooking large quantities at once, our Circulon stockpots are a popular choice. Browse our online collection of covered stockpot pans today and make life that little bit easier.
Read More
Read Less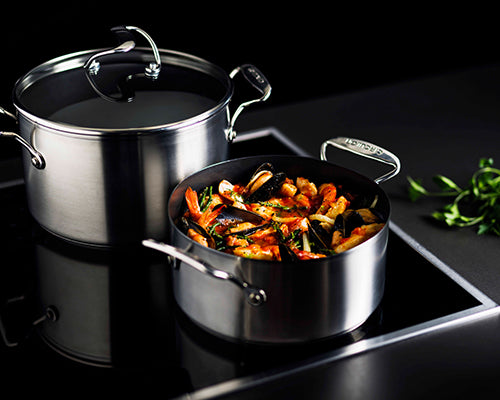 Stockpot FAQs To help you understand whether a stockpot is right for you, we've compiled answers to our most common queries below. Q: What are stockpots used for? As the name suggests, stockpots were originally used for making – you guessed it – stock! Because of a stockpot's tall sides, liquid contents evaporate more slowly than in a traditional pan. This therefore makes them ideal for making stock and broth. If you're creating dishes such as soups, broths or ramens, a stockpot is a true kitchen hero. Like to dabble in Italian cuisine? Stockpots are also perfect for boiling ingredients such as pasta and potatoes without risking running out of water. The bottom line? You can use a stockpot for just about anything! Q: What are the benefits of Circulon stockpots Our hard, adonised stockpots are made to last. Crafted from heavy-gauge materials, our Circulon stockpots last up to 15 times longer than those of our competitors. Our stockpots just make sense if you're looking for a stockpot that'll stand the test of time. Distributing heat twice as quickly as stainless steel, our Circulon stockpots make batch-cooking quick and easy. Oven-safe up to 260°C and a sight to behold, these professional-looking stockpots are ideal for batch-cooking or transferring straight to the table for a family-style feast. Food sticking to the bottom of your stockpot is a thing of the past thanks to our Hi-Low Groove System and non-stick technology. Combine this with the fact that Circulon stockpots are three times more resistant to dishwashers than other leading brands and you'll soon see why our Circulon stockpot pans are a popular choice. Keen to learn more? Get in touch with our team of culinary experts. Q: Are stockpot pans meant to release steam? One of the beautiful things about a stockpot with a lid is that you truly do get the best of both worlds. Traditionally, stockpots are used to create stocks, broths and anything that requires heat to be retained. Because in these instances you're not looking to reduce the liquid but infuse flavour, stockpots are designed not to release steam. However, there are no hard-and-fast rules when it comes to stockpots. Whether or not you choose to put a lid on your covered stockpot depends on what you're trying to achieve. If you're using your stockpot to steam fish or vegetables, it's best to keep the lid on. That way, anything inside your stockpot will remain beautifully moist and bursting with flavour. The same goes for boiling. However, if you're searing or braising, it's best to keep the cover off. Keeping the lid off means you'll get a lovely dry heat, perfect for browning meat, fish or vegetables. As somewhat of a halfway house between the two, when you're simmering you can keep the lid off or on, depending on whether or not you want your dish to reduce. Q: Can stockpots go in the oven? Yes! All our Circulon stockpots are oven-safe up to 260°C, perfect for one-pot recipes. What's more, all the handles on our range of stockpots are ergonomically designed and heat-resistant, making taking your stockpot out of the oven much less hazardous - although make sure to still use oven gloves! Q: Choose Circulon for premium covered stockpots that stand the test of time Ready to take your one pot wonders to the next level? Our stockpot pans are guaranteed to deliver. Choosing the perfect covered stockpot for your needs can be tricky. That's why our team are on standby to help you find the perfect fit. Simply fill out our online enquiry form and one of our experts will be happy to answer any questions you may have about our premium range. In the meantime, be sure to visit our blog where you'll find helpful tips, tricks and seasonal family-friendly recipes.