PFOA-Free Cookware
Cook in confidence with our range of world-renowned PFOA-free cookware. Every chef appreciates the ease of a non-stick pan; however, the coating can unknowingly include harmful chemicals, such as PFOA. With our range of PFOA-free cookware, you can cook fearlessly; safe in the knowledge our pans contain no harmful chemicals.
Across our PFOA-free range of cookware, we offer high-quality, durable products with a lifetime guarantee, so you can enhance your culinary repertoire with peace of mind.  
Shop our collection of PFOA-free cookware today.
Read More
Read Less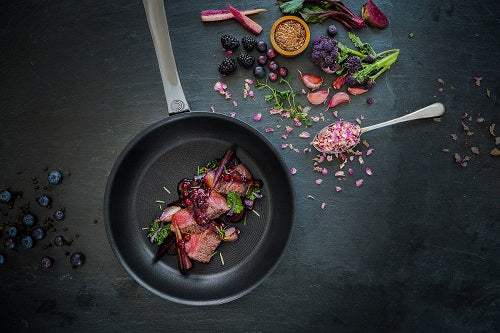 PFOA Free Cookware FAQ's
PFOA, also known as perfluorooctanoic acid, is a man-made chemical typically found in non-stick coatings. Manufacturers apply this coating to make their products non-stick or scratch-proof. However, PFOA has since been found to be toxic to both the environment and human health. Consequently, cooking with pots and pans that include PFOA in their coating could be potentially harmful.
PFOA free simply means that PFOA was not present in the making of the product. Our PFOA-free cookware is manufactured without the use of this chemical. As the safety of our customers is always a priority, our products are made with safe and effective non-stick technologies.
Yes, extremely safe! Here at Circulon, our products are refined to the highest standard, ensuring the use of safe and robust materials to make our products world-class. We are proud to say our cookware is PFOA free, giving you the reassurance you need to cook exquisite food.
PFOA-free frying pans are made with alternative materials that are food-contact safe. Our cookware has revolutionised the cookware industry and our pioneering non-stick system ensures you can enjoy healthy, toxin-free cooking with complete ease.
The main benefit of PFOA-free cookware is improved health and wellbeing. Investing in PFOA-free cookware gives you the confidence to cook without compromising quality. We have fine-tuned our products to offer high-performance cooking devoid of PFOA-exposure risk. Ready to start your journey to culinary excellence? Cook without fear and relish our extraordinary PFOA-free cookware – helping you to become the master of the kitchen. Need some inspiration? Head over to our scrumptious blog, teeming with stunning recipes to try, test and repeat to your stomach's content. If you have any questions, simply fill in our online form and a member of our helpful team will get back to you as soon as possible.