Kitchen Utensils & Tools
Explore our Kitchen Utensils & Tools including the Circulon Slotted Spoon, Cheese Grater, Pizza Cutter & Traditional Peeler the wide range of cooking tools and gadgets at Circulon is designed to help ease and speed up your cooking.
We've ergonomically designed every tool and utensil for greater comfort and control to help you enjoy and embrace cooking in the kitchen!
Read More
Read Less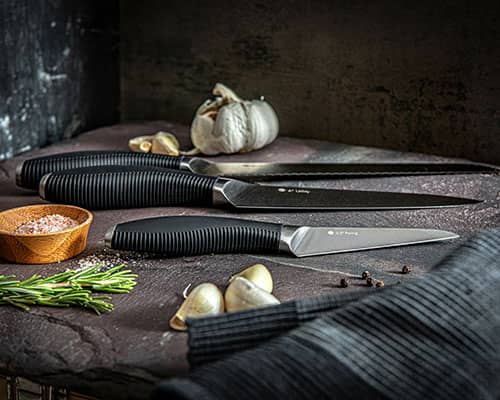 Upgrade your cooking game with high-quality Kitchen Utensils and Tools from Circulon UK. Our collection features a range of essential tools, including can openers, peelers, and aprons, all designed to help you cook like a pro.
Our Circulon Chef's Apron is the perfect addition to any kitchen, with a durable cotton construction and adjustable neck strap for a comfortable fit. Keep your clothes clean and your hands free while you cook with this stylish and practical apron.
Our Y Peeler is a must-have for any home cook, with a sharp, stainless steel blade that easily peels fruits and vegetables. The ergonomic handle is comfortable to hold and provides a secure grip, while the built-in potato eye remover makes it easy to remove blemishes and imperfections.
Our Can Opener is another essential tool for any kitchen, with a smooth-turning mechanism that makes it easy to open cans of all sizes. The durable stainless steel construction ensures that this can opener will last for years to come, while the compact size makes it easy to store in a drawer or utensil holder.
Order now and enjoy free delivery on all orders over £50. Plus, sign up for our newsletter to receive exclusive offers, cooking tips, and more. Contact us today if you have any questions or concerns about our products, and our friendly customer service team will be happy to assist you.
Upgrade your kitchen with high-quality Kitchen Utensils and Tools from Circulon UK and start cooking like a pro today!