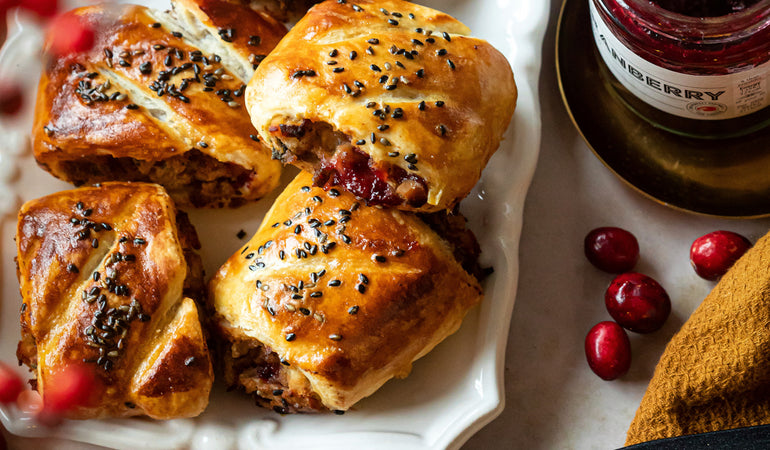 Christmas leftover sausage rolls with sage butter
28 December 2022
Wondering what to do with your leftover Christmas turkey, and can't face another turkey sandwich? Try these Christmas leftover sausage rolls with sage butter -- a brilliantly festive recipe developed by 
Jelena from @into.trends.
Christmas

Festive

Recipes
Preperation Time
10 minutes
Ingredients
200g cooked turkey leftovers
200g pigs in blankets (cooked)
5 tbsp dry stuffing mix (mixed with water according to instructions) set aside 1 bunch of sage
1 ready to roll puff pastry
3 tbsp Worcester sauce to brush the pastry
Black sesame seeds to garnish
Instructions
1Preheat your oven to 180C
2 In a bowl mix together finally chopped turkey meat, chopped pigs in the blanket and stuffing. Season and press together with a fork to create a mince like mixture
3 Preheat your Circulon frying pan, add butter and let it melt, add chopped sage leaves and toss it together to infuse the butter. Add the mince mixture to the pan, mix well for 3-4 min until all incorporated. Set aside until cooled a slightly
4 Meanwhile roll the pastry and cut the sheet into three. Spoon the cranberry sauce onto the middle of each sheet, then spread the meat mixture down the centre of all three pieces of pastry. Then fold the sides up and over, pinching the seam closed
5 Turn the sausage rolls over and score with a sharp knife. Cut them into your desired size and place them onto your Circulon baking tray. Glaze the sausage rolls with Worcester sauce and garnish with sesame seeds
6 Bake in the oven for 20-25 minutes, until the pastry is crispy and brown
7 Let it cool for a few minutes and enjoy warm.
Tip: You can also freeze unbaked rolls if making in advance and be ready to serve.